Hi everyone,
I'm so excited to finally be kicking off this year's One Room Challenge. If you're not already familiar with this participant-driven project, let me give you a quick overview. The bi-annual event showcases twenty designers/influencers as they take on the challenge of designing a space from beginning to end, all while documenting it with a weekly post on their blog and social channels. After participating in the One Room Challenge last year and successfully transforming my Rooftop Deck, I'm excited to share that this time around my team and I will be tackling a redesign of… our office!
To kick things off, today I'm going to be sharing the before photos of our space to give you a better idea of what we're working with. I also wanted to take the opportunity to tell you a little bit about the space and explain to you why it was time for a facelift.
About two years ago, we teamed up with Laurel and Wolf to redecorate our office. The results were stunning, but as time passed and our team grew, it became evident that it was time to rework the space to make it work better for our needs. The overall design was still beautiful, but due to daily wear and tear, certain aspects were beginning to look a little tired. Our new office design will maximize our space, and the design will be inspired by my art! The overall goal is to have a feel that is a little bit more sophisticated and polished.
Entryway
Upon entry to the office, you're greeted by a staircase with a gallery wall of my art running up the side. The gallery wall is a mixture of different series to give an idea of the variety of themes we offer. It's a fun introduction to the brand right when you enter.
Foyer
At the top of the staircase, you walk right into our foyer. This will remain our foyer with our new design, but the overall look is going to feel very different.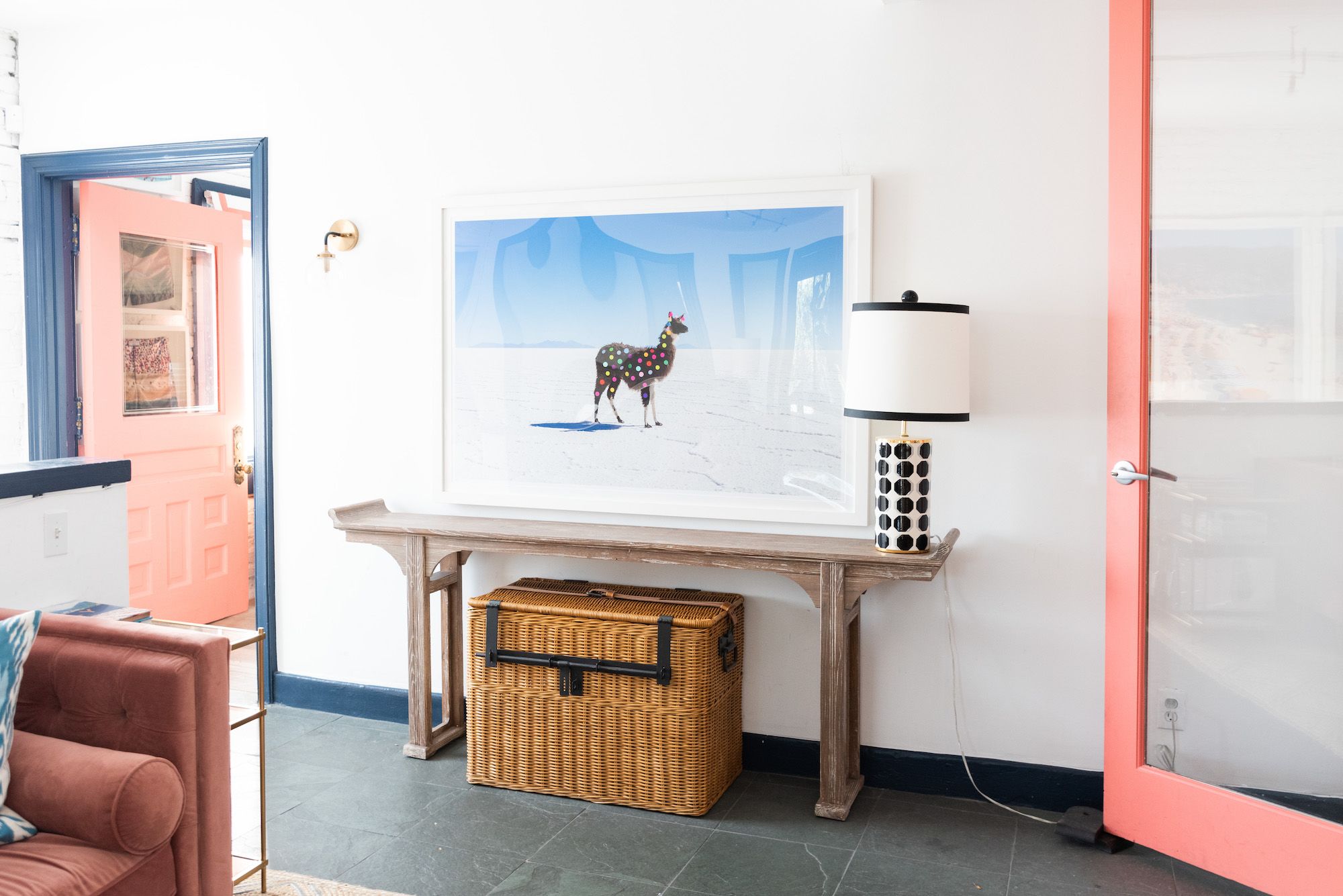 Conference Room 1
On one side of our foyer is our main conference room. This room is in constant use by our team. Since we don't have any individual offices, this is the go-to space for all meetings and calls that our team has. The current layout seats about 8-9 at maximum capacity, but due to the scale of the rectangle table to the rest of the room, it tends to feel cramped. I'm looking forward to turning this into a room that feels open and beautiful, but still highly functional.
Conference Room 2/Additional Storage Space
On the other side of our foyer is a second conference room that doubles as extra storage for products and samples. You may recognize it from our recent project with Life in Jeneral. This is our second option for meetings, but due to its many uses, it isn't always available and/or functional. We plan to shift the main use of this space in order to improve efficiency in our office.
Main Office
Our main office space serves to seat our entire team of 16. This is also the space where we have tables to pack up orders and our printers to print all of our art. With the growth of our team, we've had to make adjustments to our seating arrangement, and are looking at changing the layout completely during the course of this challenge, so don't be surprised if this space looks very different 6 weeks from now.
Sitting Area
One corner of our main office is a sitting area for the team, on occasion we will hold meetings here if the other two rooms are unavailable, but, for the most part, this is a space for the team to work on their laptops, eat lunch, or take a break. Although we will continue to have a sitting area, it will be moving positions in our office once the challenge is finished.
As you can see, the overall space already looks somewhat different than the final result of our last office redesign. Over the past two years, we've made small tweaks here and there in order to maximize the space, but the overall design has remained pretty consistent. Certain elements like the layout and room purposes were not serving us in the best way possible, so through this process we are exploring alternative options to change things up and make our work lives easier.
Thanks for joining me on this adventure! I'm so excited to share this process with all of you and see how it all turns out in the end. Here we go…
Cheers!
Xx
GM
Check out the other exciting One Room Challenge Projects:
At Charlotte's House | Design Addict Mom | Erika Ward Interiors | Erin Kestenbaum | Girl & Grey
Gray Malin | Hommeboys | I Spy DIY | Jewel Marlowe | The Learner Observer | Making it Lovely
Nicole White Designs | Old Brand New | Oscar Bravo Home | Place of My Taste | The Rath Project
Room for Tuesday | SG Style | Undecorated Home | Veronica Solomon | Media BH&G | TM by ORC