Your entryway is the first thing you see when you walk in the door, so it's only right to give it a little extra love. From adding a touch of greenery to sticking to sleek neutrals, there are so many ways to style your entry console table, no matter what style you gravitate towards. Our best tip for keeping things organized while still looking chic? Add in one of our brand-new porcelain trays to hold everything from keys to loose change and more. The easiest way to take a console table from sleek to shabby is with a pile of bills and debris from the day, so keep things in one convenient place with these pretty porcelain catch-all trays and some of our best styling tips. That said, if your entryway is already dressed to the nines, we love our new catch-all trays on coffee tables, sideboards, and bedside tables too!
Shop all of our brand new porcelain trays (adorned with GM prints, of course) right here, and keep scrolling for all the entryway styling inspo you need…
Go for Greenery
We love adding a bouquet of fresh flowers or vibrant plants to the rest of our homes, so why not add a touch of greenery to our entry tables? Whether you prefer fresh flowers or dried grasses, adding a little bit of nature to your console table can breathe life into this corner of your home, and set the mood every time you walk in the door.
Play With Neutrals
Rather than going for bright, bold colors when you walk in the door, make your entryway a place to transition you from your busy day at work to the comforts of home. Look for woven fabrics, cream and tan touches, and pops of warm colors for a sanctuary that's cozy and calming. We love how these Lulu and Georgia accessories complement the soft colors and texture of the console table and rug for a welcoming look.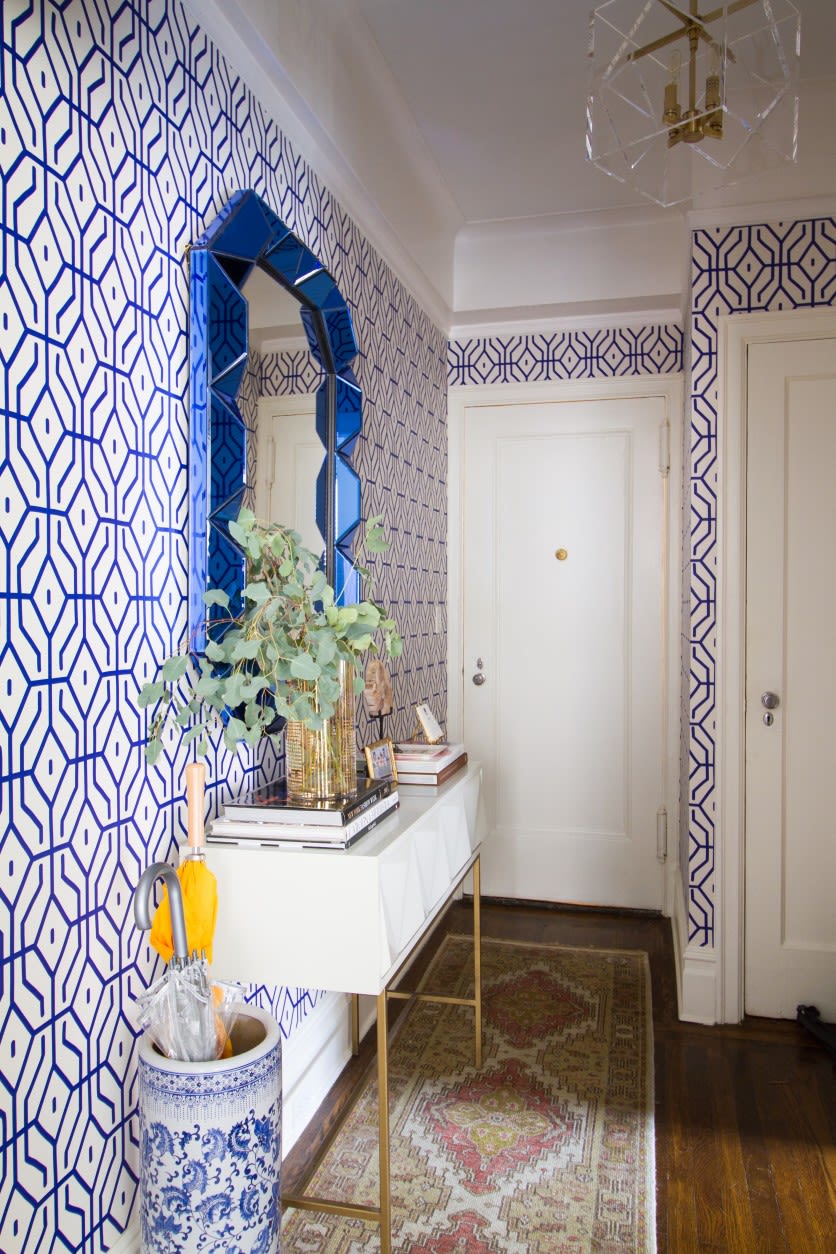 Stack It Up
It's all about the stack, and the easiest way to add some height to your console table is with a few of your favorite books and trays. We love the pop of color that this beach aerial porcelain tray adds to an otherwise neutral tablescape. If your entryway is bolder, look for neutral books and trays to add dimension without feeling too busy.
Image via Kate Lester Interiors
Tons of Texture
Texture, texture, texture. There's nothing that makes a bigger impact than a layered and multi-textured corner of your room, and your entryway is the perfect place to test out all your favorite woven, wooden, and fringed pieces. Look for two or three different textures to mix and match, whether that's a textured light fixture, a woven storage box, or a playful lamp.
Image via Kate Lester Interiors
Let There Be Light
Nothing brings the mood down like walking into a dim entryway, so make sure to light things up with a gorgeous light fixture. Whether you opt for a show-stopping table lamp, or add some accent lighting in the form of sconces over your console table, the extra dose of light will give you and your guests a glowing welcome every time you walk in the door.
How would you style your entryway table?
If you need a good place to start, check out these brand-new porcelain trays and start crafting your dream console table.
Xx Team GM
Photos: (Header) Lulu & Georgia, Gray Malin, Serena & Lily, Kate Lester Interiors, Murphy Deesign