Hi Everyone,
As promised on Tuesday's Far Far Away III release, I am back today with a special Behind the Scenes look at how these new additions were created in Bolivia. But first, why read when you can watch...?
FUN, right? The most interesting thing about the Far Far Away series is what you see in the final photograph is what I shot in real time. Myself and team GM were on location in Bolivia at the Salar de Uyuni; through months of planning and teaming with a resourceful group of local crew members, we brought each idea into a reality. It may not have been glamorous at the time but the results are a joyful play of color, shape and one's overall perception of what they are (actually) seeing...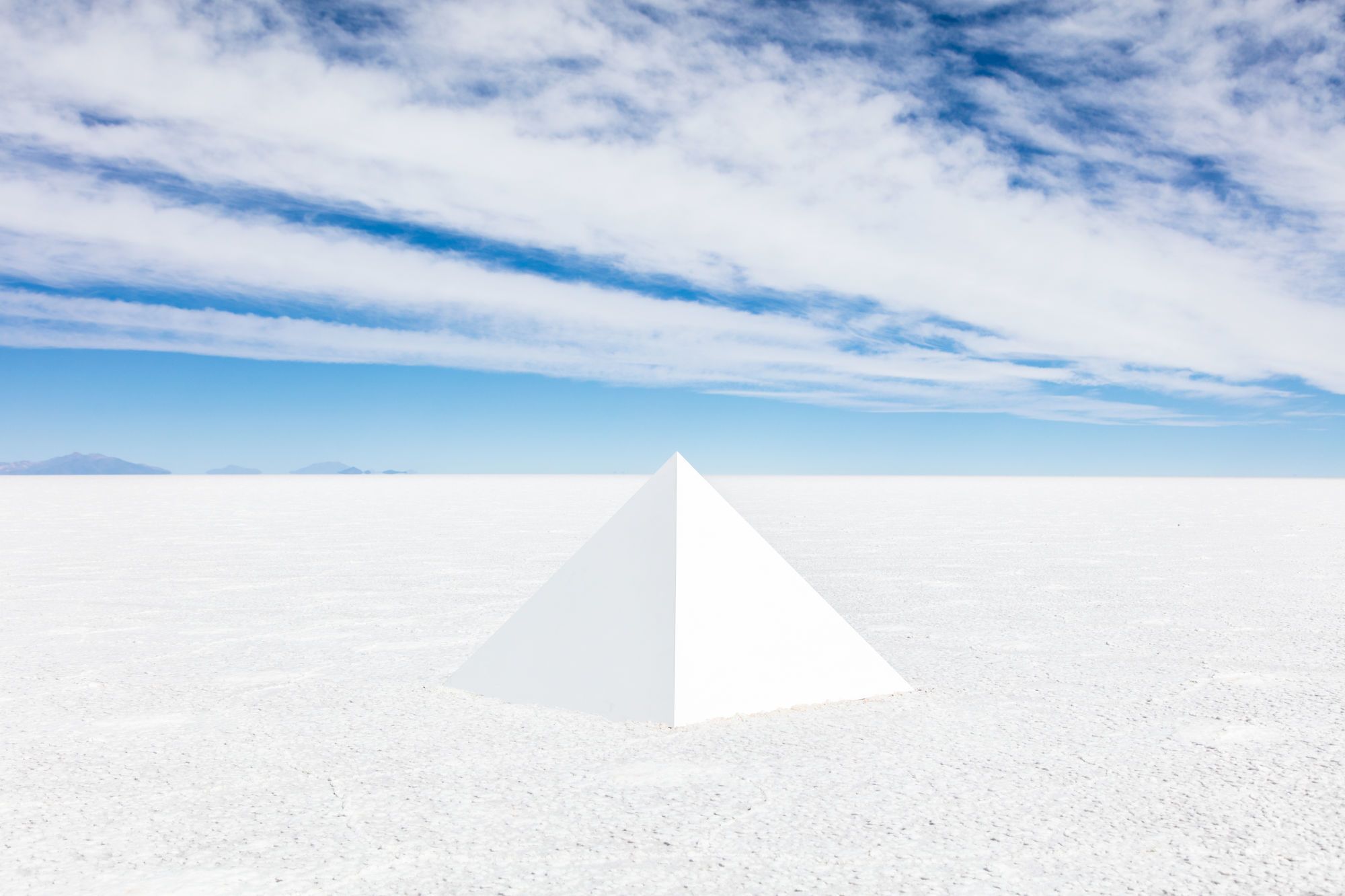 QUICK REFRESH
In case you're just discovering Far Far Away, please allow me to give you a quick backstory. In April of 2013, I traveled to the world's largest salt flat, Salar de Uyuni, Bolivia to shoot the first installment of Far Far Away. Spanning 5,000 square miles, the salt flat is located 12,000 feet in elevation. The color temperature nears 7,000 kelvins, making objects appear brighter and whiter than the naked eye can see. Released later that year, the original collection was about capturing the whimsical happiness of a place unknown and produced the sold out image, Llamas Black & White Balloons. Four years later, I reconnected with the beloved Bolivian artist, Gastón Ugalde, who was my mentor for the first installment. Via a flurry of conversations, we began to plot the second installment and within three months, I was back for more in Bolivia.
Along with three team GM members, Gaston, Mariano, two engineers, a painter and three strong bodied assistants to aid in production, I returned to the Salar. This time around, I sought to execute larger ideas to challenge the viewer to think more broadly about color theory and how unexpected items are perceived in this geographically unique environment. Just like the first installment, the challenge was creating images that are not retouched—what you see is quite literally what appeared in front of my lense. Take Bananas I for instance, which was released in the second installment, was actually a pile of bananas set up for the sole purpose of creating art.
ROUND III
The second shoot was so successful that when I went to make selects, I had the amazing "problem" of deciding which images to release. Rather than overwhelm everyone, including myself, I decided to divide my favorites into two individual releases.
The third installment picks up where the second left off with its play on color, shapes, unexpected objects and of course, llamas.
Having been under the spell of millennial pink, I incorporated the color along with some other fun elements including a floating chandelier and disco ball.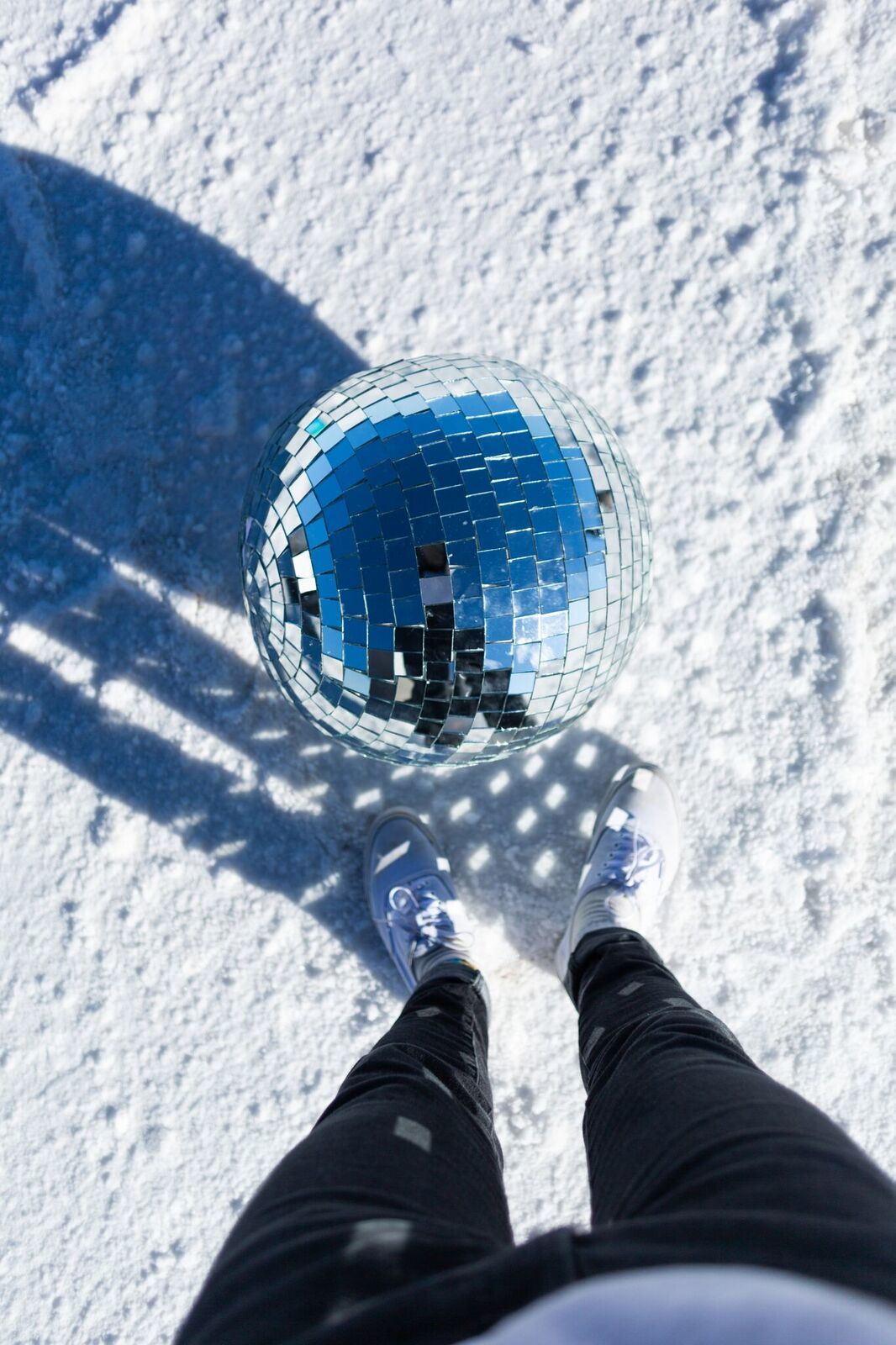 The llamas were really fun to work with, especially this one white haired llama that we referred to as Beyoncé because she was confident and shined in her ensemble, which included bright colored tassels and balloons.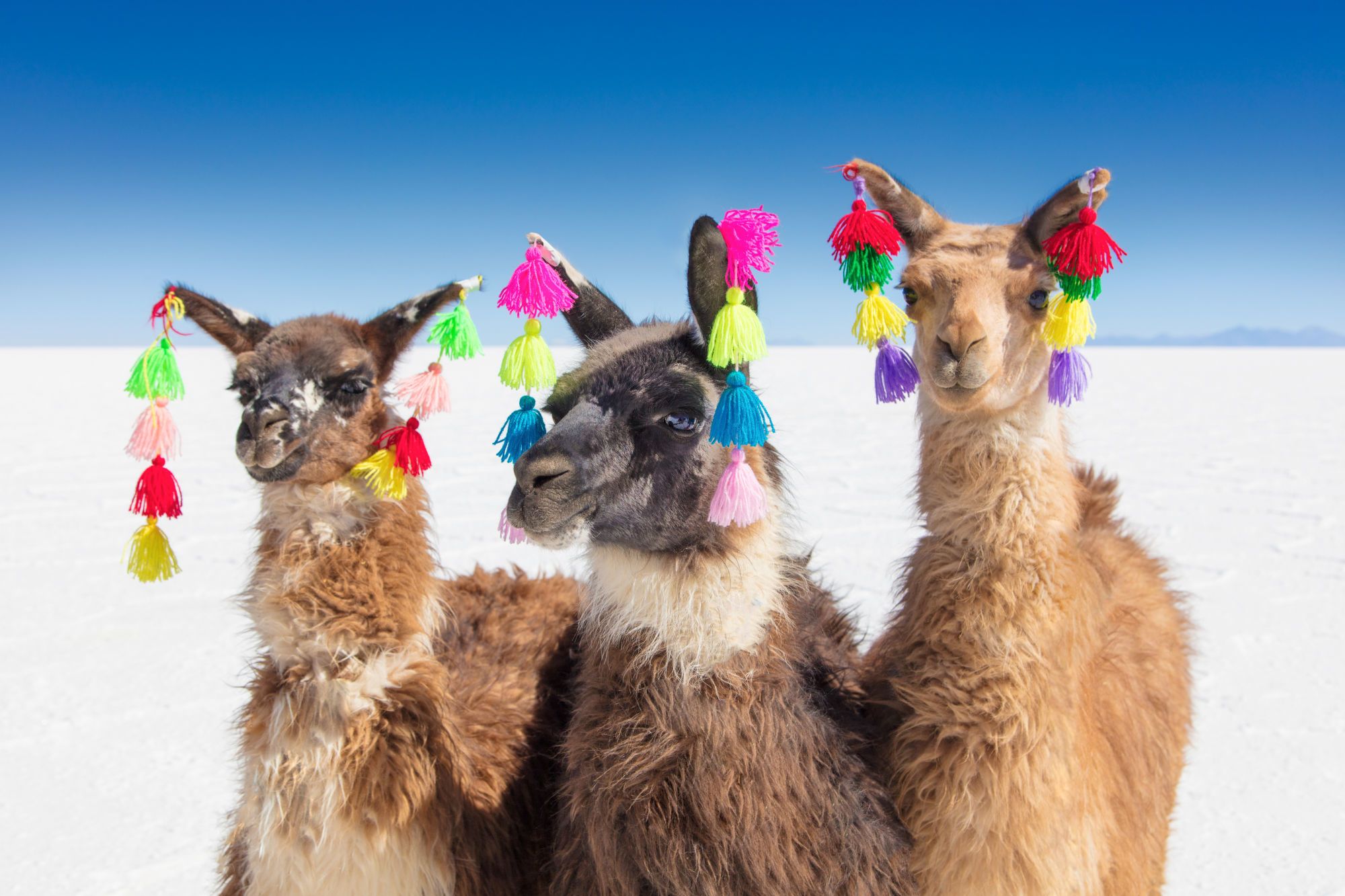 Bhutan was the first time I crafted a giant balloon sculpture and I wanted to further this idea in Bolivia. With the help of 10 assistants, we created a bright colored sculpture incorporating balloons of varying sizes and shapes. The 20-foot sculpture magically lifted in the air, creating dazzling shapes and mimicking a cloud-like form. We twirled the balloon sculpture around in the air and I shot it from different vantage points, each angle offering a unique experience. Seeing these balloons float in the middle of the desert brought joy to everyone helping with the shoot.
After this shot we captured the technicolor rain umbrellas, which they along with a variety of other set ups satiated my fascination with rainbows. We ended the day shooting the balloon words 'VOYAGE,' and 'I AM A PHOTOGRAPH.' These shots were especially spectacular because of the incredible Bolivian sky behind them.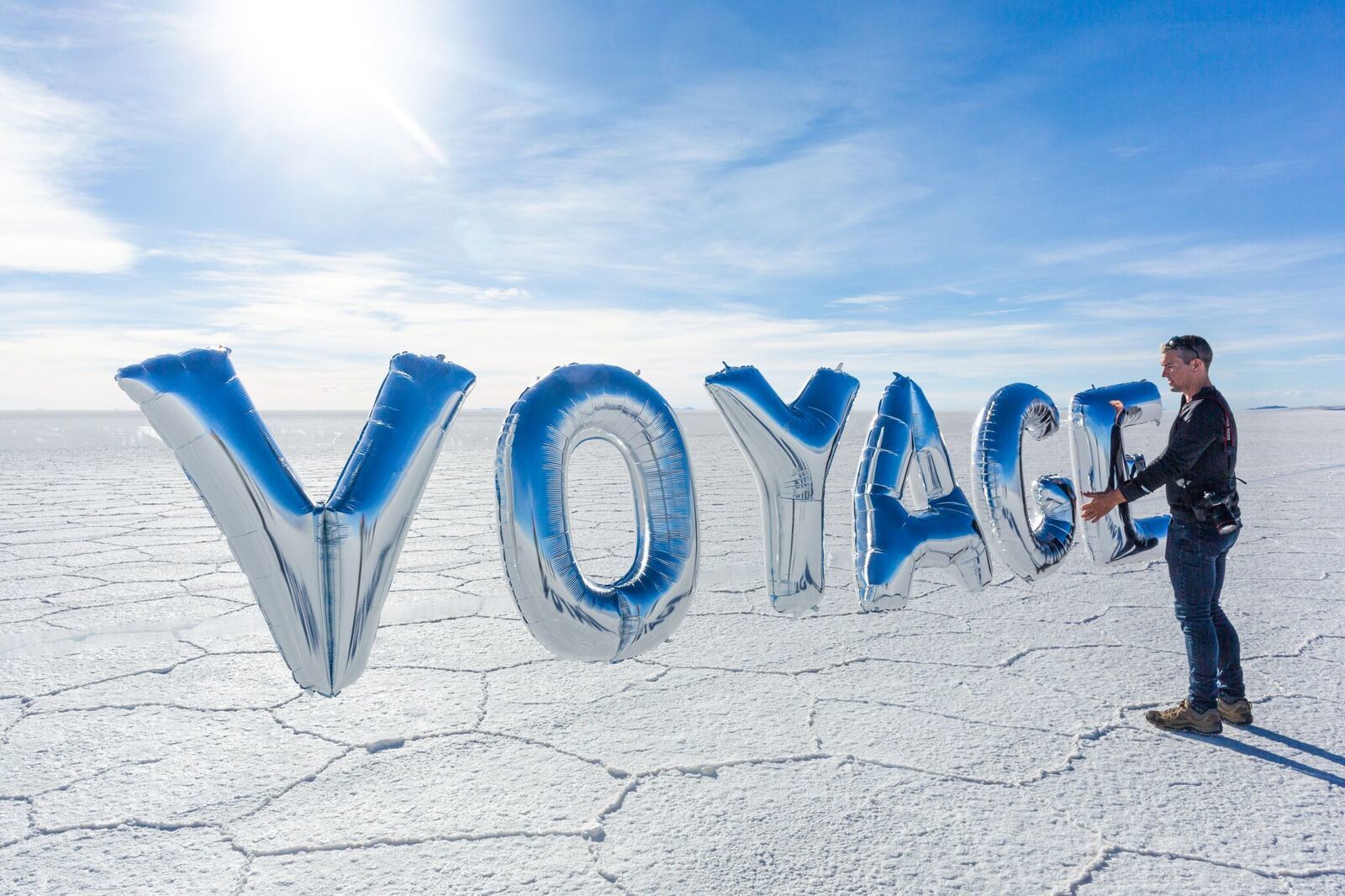 We ended the shoot with one of my favorite concepts to date was that of the Mirror. It was definitely no easy feat to achieve; we imported a 70x40" mirror that traveled 2,000 miles across Bolivia. I wanted to use a simplistic form that interacted with light, creating geometric patterns on the ground in every direction. The light that reflected off the mirror traveled hundreds of feet across the salt plane. It was truly a magical moment for me and a great way to wrap the shoot. I am thrilled to finally share Mirror I, II & III via this release.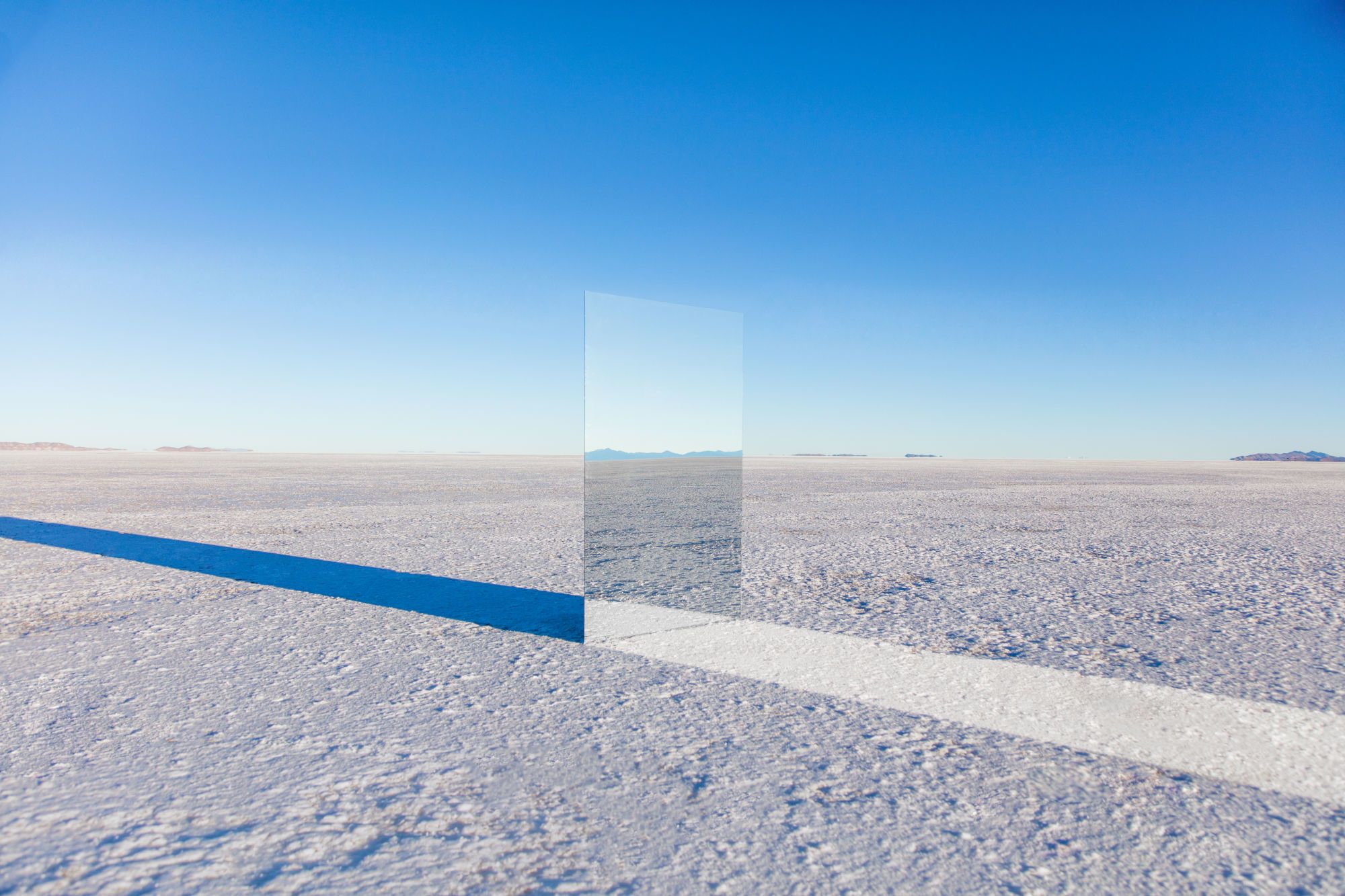 And, that's a wrap! I hope you all are enjoying the latest from Far Far Away. Who knows, I may have to do another take on this Behind the Scenes because just like the series itself, there are so many good shots!
Cheers,
xx
Gray