When it comes to decorating a kids room, we love getting a little playful with the design. For this week's Start with Art, interior designer Bailey Austin is showing us how she styled Welcome Back the Parker II in her son's bedroom. From the darling animal printed wallpaper to the orange accent pillows on the bed, we love how the space turned out.
I was born and raised in Tulsa, Oklahoma and became interested in architecture and design at an early age. My parents have impeccable style, I watched them work closely with an architect on their home… from the massing and scale of the space to the decoration, I fell in love with the whole process. After a preceptorship with Pelli Clarke Pelli in New York, I moved to the city post-graduation to work full-time for the firm. I later returned to Tulsa in 2011 and opened my first firm, Austin Bean Design Studio, in partnership with local designer Mel Bean. In 2018, due to the firm's extraordinary growth, Mel and I branched out and each opened our own firms. Enter, Bailey Austin Design!
How would you define your interior design style?
I'm all about traditional textures with a splash of "funk". I want to leave a unique mark on each home I lay my hands on. Whether it's bold, pops of color… or clean, classic lines- I want each room to feel special and stand out in its own way.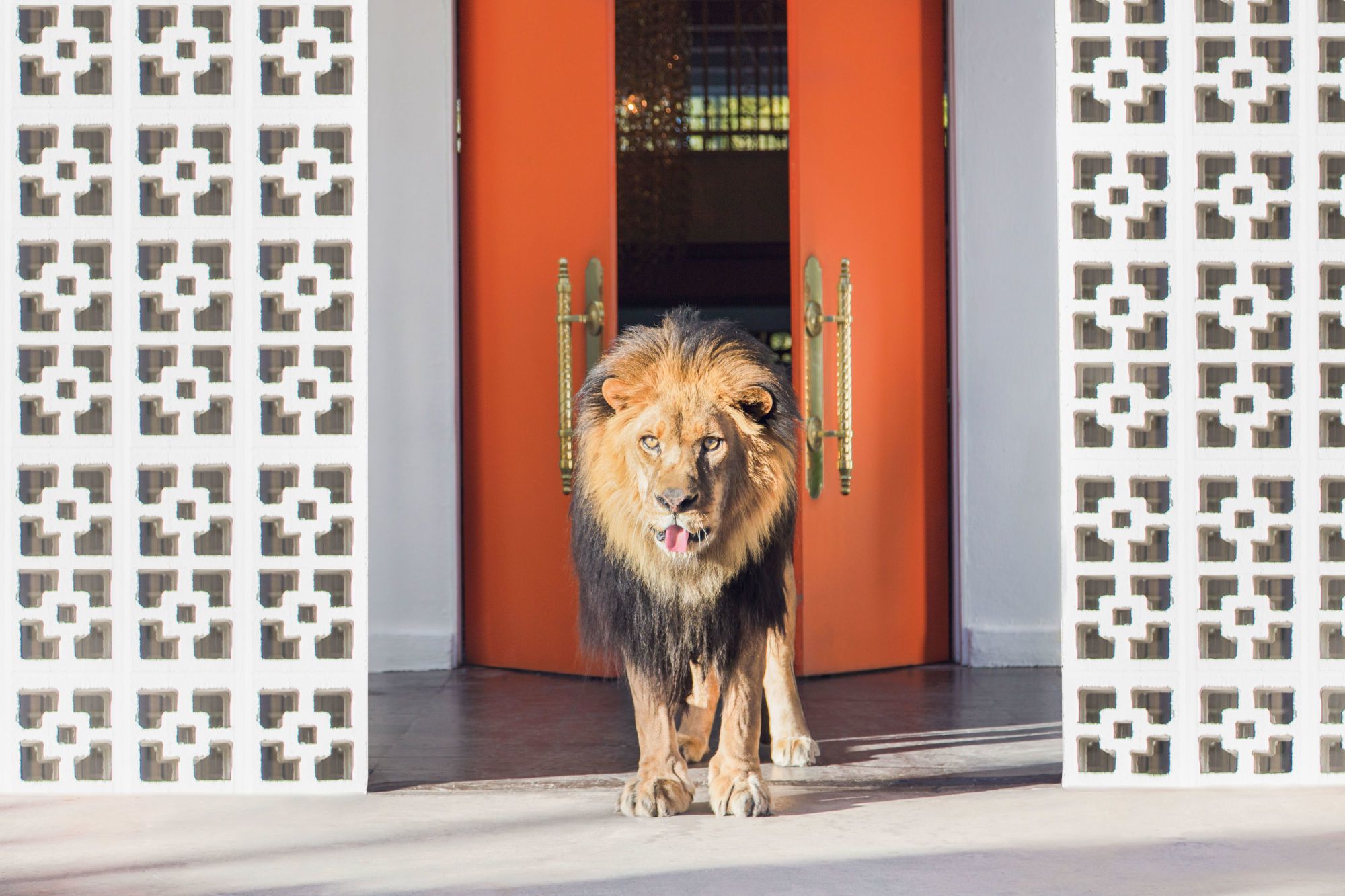 No one captures "adventure" like Gray Malin. I love the composition or white space and pops of orange. This piece was the perfect addition to my son's bedroom. It brings a playful energy to one of my favorite rooms in the house.
What did you pick out as the most important elements of the print to incorporate into the space?
When picking the print, I was searching for a piece that had a pop of color and lots of texture. I was really drawn to the orange and the texture pattern of the concrete blocks. The second this print was hung, I knew the bedroom was complete!
What's one piece of advice you'd give to someone who wants to design a space and start with art?
Art defines the color palette for the room. It adds something extra to the space that you might not be able to communicate with fabrics and furniture. Take your time finding that perfect piece…. Art is personal and should represent you.
Want to add a little bit of a wild side to your room? You can shop all photography from Gray Malin at the Parker here. Keep up to date with Bailey on her Instagram and website.
Cheers!
Team GM
{"slides":[{"label":"Designing a Sophisticated Kids Room with Pure Salt Interiors","url":"/lifestyle/designing-a-sophisticated-kids-room-with-pure-salt-interiors","image":"https://res.cloudinary.com/gray-malin/image/upload/c_scale,w_1000,q_50,f_auto/gray-malin/blog_posts/hero_images/000/001/768/original/0-PSI_Holiday_Home_WEB_REZ-277.jpg?updated=1606258229"},{"label":"Danielle Moss's Dreamy Home Office","url":"/lifestyle/danielle-moss-s-dreamy-home-office","image":"https://res.cloudinary.com/gray-malin/image/upload/c_scale,w_1000,q_50,f_auto/gray-malin/blog_posts/hero_images/000/001/767/original/0-Danielle-Moss-Sunroom-Office_-37-Edit_copy.jpg?updated=1606071366"},{"label":"Where We Shot Gray Malin Holiday 2020","url":"/lifestyle/where-we-shot-gray-malin-holiday-2020","image":"https://res.cloudinary.com/gray-malin/image/upload/c_scale,w_1000,q_50,f_auto/gray-malin/blog_posts/hero_images/000/001/765/original/0-House_Selects-5.jpg?updated=1605915014"},{"label":"Gray's Holiday Home Tour","url":"/lifestyle/gray-s-holiday-home-tour","image":"https://res.cloudinary.com/gray-malin/image/upload/c_scale,w_1000,q_50,f_auto/gray-malin/blog_posts/hero_images/000/001/766/original/0-Home_Tour_Detail_Shot-71.jpg?updated=1605923586"},{"label":"Amirah Kassem's Colorful Playroom","url":"/lifestyle/amirah-kassems-colorful-nursery","image":"https://res.cloudinary.com/gray-malin/image/upload/c_scale,w_1000,q_50,f_auto/gray-malin/blog_posts/hero_images/000/001/763/original/0-Amirah_Kassem-2.jpg?updated=1605572962"},{"label":"Amy Havins' Darling New Nursery (+ Nursery Organization Tips!)","url":"/lifestyle/amy-havins-darling-new-nursery-nursery-organization-tips","image":"https://res.cloudinary.com/gray-malin/image/upload/c_scale,w_1000,q_50,f_auto/gray-malin/blog_posts/hero_images/000/001/761/original/0-09.08.20Amy223-edit-2_copy.jpg?updated=1605306249"},{"label":"Start with Art - Adding a Pop of Color with Lucy Williams","url":"/lifestyle/start-with-art-adding-a-pop-of-color-with-lucy-williams","image":"https://res.cloudinary.com/gray-malin/image/upload/c_scale,w_1000,q_50,f_auto/gray-malin/blog_posts/hero_images/000/001/758/original/0-image14.jpg?updated=1605052532"},{"label":"Start With Art - Creating a Perfect Reading Nook with Washashore Home","url":"/lifestyle/start-with-art-creating-a-perfect-reading-nook-with-washashore-home","image":"https://res.cloudinary.com/gray-malin/image/upload/c_scale,w_1000,q_50,f_auto/gray-malin/blog_posts/hero_images/000/001/753/original/0-Sarah_Waldo-1.jpg?updated=1603838036"}],"label":"Have You Seen?"}
{"id":null,"number":null,"item_total":"0.0","total":"0.0","ship_total":"0.0","state":"cart","adjustment_total":"0.0","user_id":null,"created_at":null,"updated_at":null,"completed_at":null,"payment_total":"0.0","shipment_state":null,"payment_state":null,"email":null,"special_instructions":null,"channel":"spree","included_tax_total":"0.0","additional_tax_total":"0.0","display_included_tax_total":"$0.00","display_additional_tax_total":"$0.00","tax_total":"0.0","currency":"USD","considered_risky":false,"canceler_id":null,"display_item_total":"$0.00","total_quantity":0,"display_total":"$0.00","display_ship_total":"$0.00","display_tax_total":"$0.00","display_adjustment_total":"$0.00","token":null,"checkout_steps":["address","delivery","complete"],"bill_address":null,"ship_address":null,"line_items":[],"payments":[],"shipments":[],"adjustments":[],"credit_cards":[],"promotions":[],"total_shipment_cost":"$0.00","permissions":{"can_update":false},"use_shipping_for_billing":true,"use_new_ship_address":true,"use_new_bill_address":false,"selected_ship_address":null,"selected_bill_address":null,"display_completed_at":null,"item_count":0,"subtotal_minus_promos":"$0.00","coupon_codes":[],"includes_framed_items":false}
This site uses cookies to allow better navigation. By closing this banner, scrolling this page or clicking any of its elements, you are giving consent to all cookies. To learn more and to change your preferences please see our Cookies Policy.