I think we can all relate that getting organized and staying organized isn't always easy. The process can seem daunting and when life gets in the way, organization can sometimes go out the window. This is exactly what began to happen in the GM Studio and it was starting to get a little out of control. To tackle the problem, we decided to bring in the experts. The team from Life in Jeneral spent three days in our office and when they left, our back rooms seemed like a breath of fresh air. They focused on our two back rooms, which include a storage room and a conference room that also serves as extra storage. Luckily for all of you, the LIJ team is here today to give you their best tips on getting (and staying organized). We're also sharing the before and after images of our project!
Conference Room Before: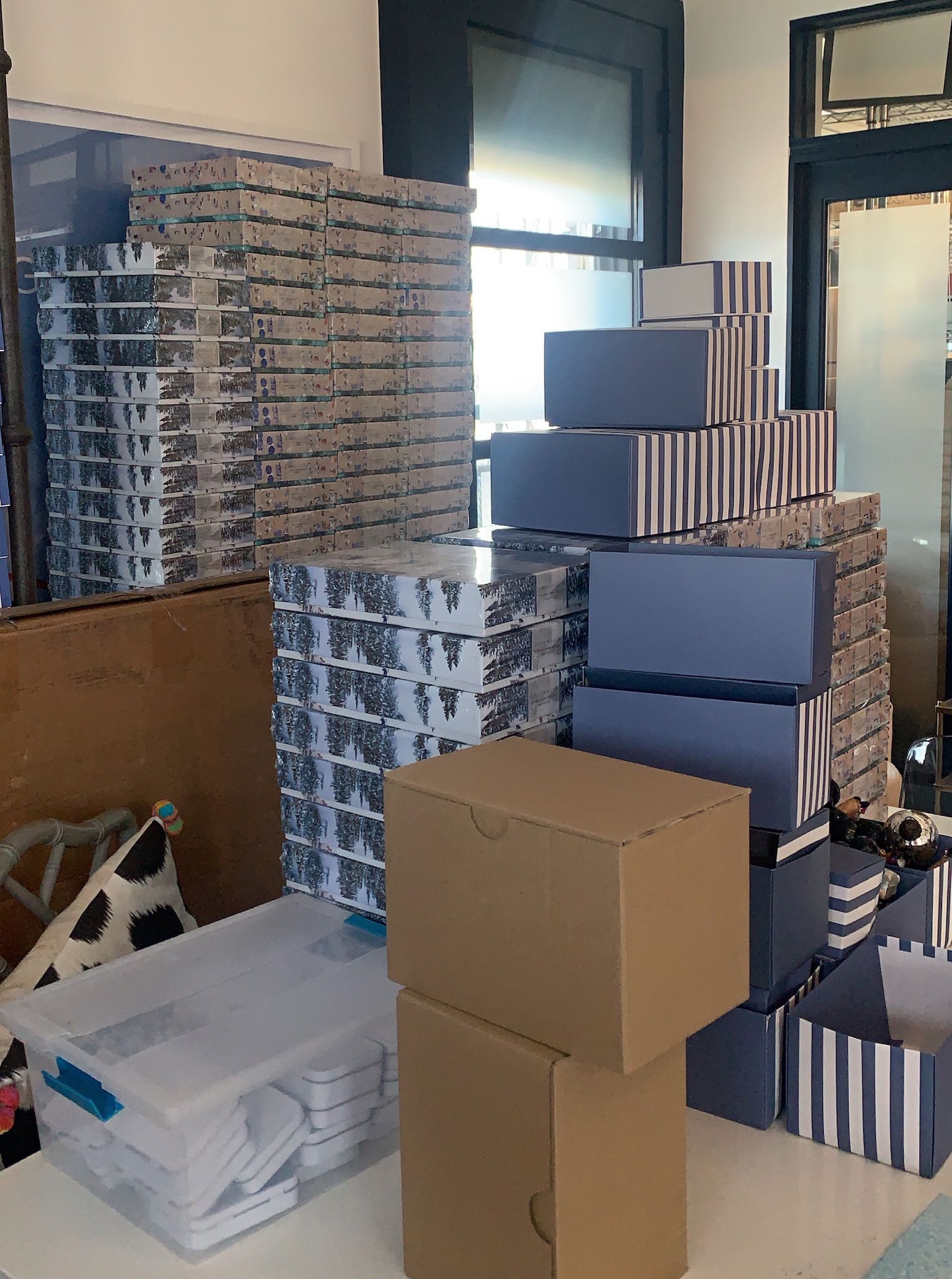 What are the most common issues you run into when helping your clients organize their home and office spaces?
One of the most common problems we come across is that people often times have a misconception of what they need and what they actually use. Sometimes people attach success or wealth to their physical items. When we actually narrow it down, a lot of our items are not as functional as we may have once thought. Perhaps they will be more useful to someone else. It is also very important to be sensitive with personal items. Sentiment is important and you never know what means the world to someone. Their space may be too full and their items may not fit. This is where purging is key. As far as offices, there are usually items that are crucial to the flow of the company. Product, boxes for shipping, printer paper,etc. It is less common to come across as many sentimental items in an office storage room as opposed to a garage that has been filled with memories over the years. Here is where the process and flow are very crucial. We often ask our office clients...Do they ship out product often? Who is using the space most often, the photographer or the sales team? Etc. Finding the flow that allows everyone in the office to be efficient is key!
What do you recommend as the best first step when someone doesn't even know where to start?
The first step is to determine which area in your house is the problem area. I know it may be overwhelming so we always say to start small. We always recommend the "junk"drawer. Or as we say the "Joy" drawer. But just getting a small space in order can lead to a much bigger picture. Once you get started I promise you won't be able to stop. It is so freeing to see what you own that you don't actually use. You will feel much lighter and very free, it is the most rewarding. We then recommend to us our LIJ process; start by pulling everything out, sort like items, then purge what you no longer need. Then not required but we love adding in drawer organizers to create containment, they are life changing. Everything will have a home and you will no longer be looking for your scissors again.
Conference Room After: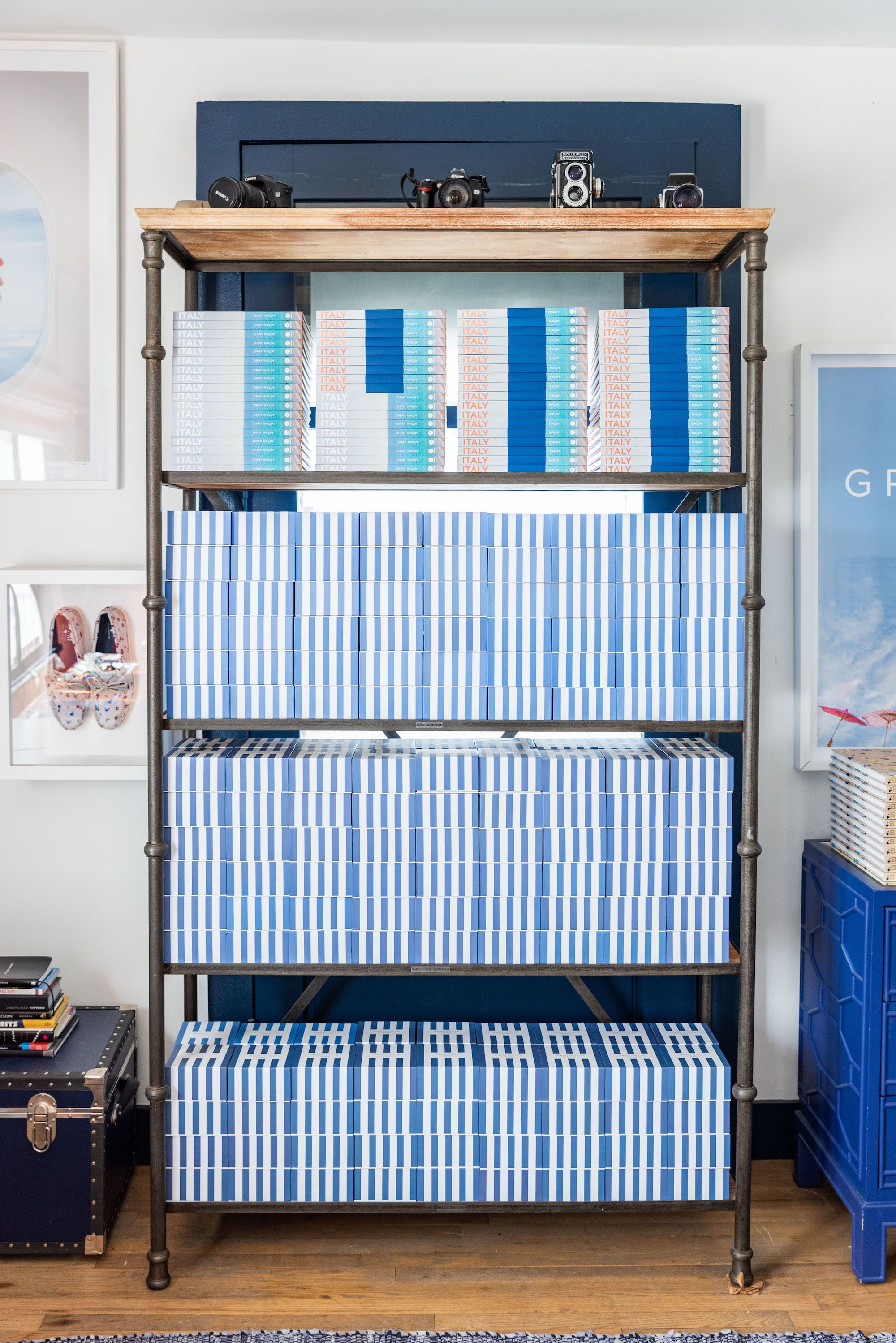 We often hear the term "purging" whenever the topic of organization comes up. What are your best tips for purging and rules of thumb when deciding what to keep, donate, and get rid of?
Purging should become part of your life. It can happen once a quarter or can be a constant rule of thumb. Out with the old and in with the new. Clearing space makes room for new energy. Or a cute new outfit if that is what suits you! Start with a rough purge and then do a few more pass overs and you might see your items in a new light. Shed your skin and lighten your space.
Do you treat office spaces differently than home spaces? How does your organization advice differ between the two?
We approach offices differently than home organization. However a lot of key elements are still present. In both the home and office we need to get into the routine of whomever may be using the space everyday. What is their daily routine and how can we make the flow more efficient for them. Are they wearing a suit everyday? This can change the layout drastically. With office we ask questions like how do your shipping procedures work? What is the most sold item? Who uses this space each day? Typically in offices there can be more people involved so finding this flow and process is key to creating and maintaining organization.
Storage Room Before:
For some people, The Container Store is heaven and for others it can be a little overwhelming… What are your go-to product recommendations to organize and make sure it stays that way?
Drawer organizers! Bamboo or acrylic! You will literally smile every time you grab a pen or your toothbrush. Also mens and womens clear shoe boxes are such a fast, easy and cost effective way to sort and store items in so many spaces. From under the sink to the garage.
What are the best habits to develop in order to make sure your space stays tidy instead of winding up back at square one?
Containment is key! If every item has a home it will make it easier to place items back where they belong faster! We also find that people may tend to put things off for later. For example, their outfit options get piled on the floor in their room in the morning. Adding a few extra minutes to your morning can be a great way to solve this issue. Once your closet is organized to meet your daily needs this will take you a few minutes and not become a stress. We also love the idea of carving out 15 min every Sunday to tidy up. If you truly set aside 15 min to go around the house, one room at a time and put things away you will be shocked at how easy/quick it is once you have your organizational systems created.
Storage Room After:
Any other words of wisdom?
Take your time! And take breaks! It will get overwhelming. But have a friend over! Have a glass of wine perhaps? You can always hire Life in Jeneral!
Interested in taking up your own organization project? Check out some of the products the LIJ team used below:
We're so grateful to the Life in Jeneral Team for all the work they put in to help make our studio beautiful AND functional. For more tips, you can check out their blog and start tackling projects around your home or office. Happy organizing!
Cheers!
Xx
Gray
{"slides":[{"label":"Start with Art - Using Bold Colors With Veronica Bradley","url":"/lifestyle/start-with-art-using-bold-colors-with-veronica-bradley","image":"https://res.cloudinary.com/gray-malin/image/upload/c_scale,w_1000,q_50/gray-malin/blog_posts/hero_images/000/001/627/original/0-Veronica_Bradley-9_copy.jpg?updated=1590528003"},{"label":"Start with Art - Creating an Italian Oasis with Louisa Smith","url":"/lifestyle/start-with-art-creating-an-italian-oasis-with-louisa-smith","image":"https://res.cloudinary.com/gray-malin/image/upload/c_scale,w_1000,q_50/gray-malin/blog_posts/hero_images/000/001/623/original/0-Louisa_Smith_Start_with_Art-6.jpg?updated=1589937014"},{"label":"Start with Art - Refresh Your Living Room with Jaime Moore","url":"/lifestyle/start-with-art-refresh-your-living-room-with-jaime-moore","image":"https://res.cloudinary.com/gray-malin/image/upload/c_scale,w_1000,q_50/gray-malin/blog_posts/hero_images/000/001/619/original/0-JM-16_copy.jpg?updated=1589332856"},{"label":"Home Makeover Surprise","url":"/lifestyle/home-makeover-surprise","image":"https://res.cloudinary.com/gray-malin/image/upload/c_scale,w_1000,q_50/gray-malin/blog_posts/hero_images/000/001/616/original/0-In_room_Edits-9.jpg?updated=1588980072"},{"label":"Start With Art - Designing a Nursery with Little Crown Interiors","url":"/lifestyle/start-with-art-designing-a-nursery-with-little-crown-interiors","image":"https://res.cloudinary.com/gray-malin/image/upload/c_scale,w_1000,q_50/gray-malin/blog_posts/hero_images/000/001/612/original/0-Gray_Malin.jpg?updated=1588716536"},{"label":"Decorating with Blue and White","url":"/lifestyle/decorating-with-blue-and-white","image":"https://res.cloudinary.com/gray-malin/image/upload/c_scale,w_1000,q_50/gray-malin/blog_posts/hero_images/000/001/609/original/0-Rainbow_Ridge-7_copy.jpg?updated=1588306181"},{"label":"How to Clean Your Framed Prints","url":"/lifestyle/how-to-clean-your-framed-prints","image":"https://res.cloudinary.com/gray-malin/image/upload/c_scale,w_1000,q_50/gray-malin/blog_posts/hero_images/000/001/608/original/0-Framing-3.jpg?updated=1588031792"},{"label":"Gray's 5 Ways to Make a Home Office Feel Like an Escape","url":"/lifestyle/gray-s-5-ways-to-make-a-home-office-feel-like-an-escape","image":"https://res.cloudinary.com/gray-malin/image/upload/c_scale,w_1000,q_50/gray-malin/blog_posts/hero_images/000/001/606/original/0-Office-5.jpg?updated=1587753813"}],"label":"Have You Seen?"}
{"id":null,"number":null,"item_total":"0.0","total":"0.0","ship_total":"0.0","state":"cart","adjustment_total":"0.0","user_id":null,"created_at":null,"updated_at":null,"completed_at":null,"payment_total":"0.0","shipment_state":null,"payment_state":null,"email":null,"special_instructions":null,"channel":"spree","included_tax_total":"0.0","additional_tax_total":"0.0","display_included_tax_total":"$0.00","display_additional_tax_total":"$0.00","tax_total":"0.0","currency":"USD","considered_risky":false,"canceler_id":null,"display_item_total":"$0.00","total_quantity":0,"display_total":"$0.00","display_ship_total":"$0.00","display_tax_total":"$0.00","display_adjustment_total":"$0.00","token":null,"checkout_steps":["address","delivery","complete"],"bill_address":null,"ship_address":null,"line_items":[],"payments":[],"shipments":[],"adjustments":[],"credit_cards":[],"promotions":[],"total_shipment_cost":"$0.00","permissions":{"can_update":false},"use_shipping_for_billing":true,"use_new_ship_address":true,"use_new_bill_address":false,"selected_ship_address":null,"selected_bill_address":null,"display_completed_at":null,"item_count":0,"subtotal_minus_promos":"$0.00","coupon_codes":[],"includes_framed_items":false}
This site uses cookies to allow better navigation. By closing this banner, scrolling this page or clicking any of its elements, you are giving consent to all cookies. To learn more and to change your preferences please see our Cookies Policy.