Happy New Year! After lots of indulging over the holiday season, Team GM is ready to start the new year off on the right foot and get our goals in check. Want to know what's helping us do just that? Our all-new Goals Guided Journal!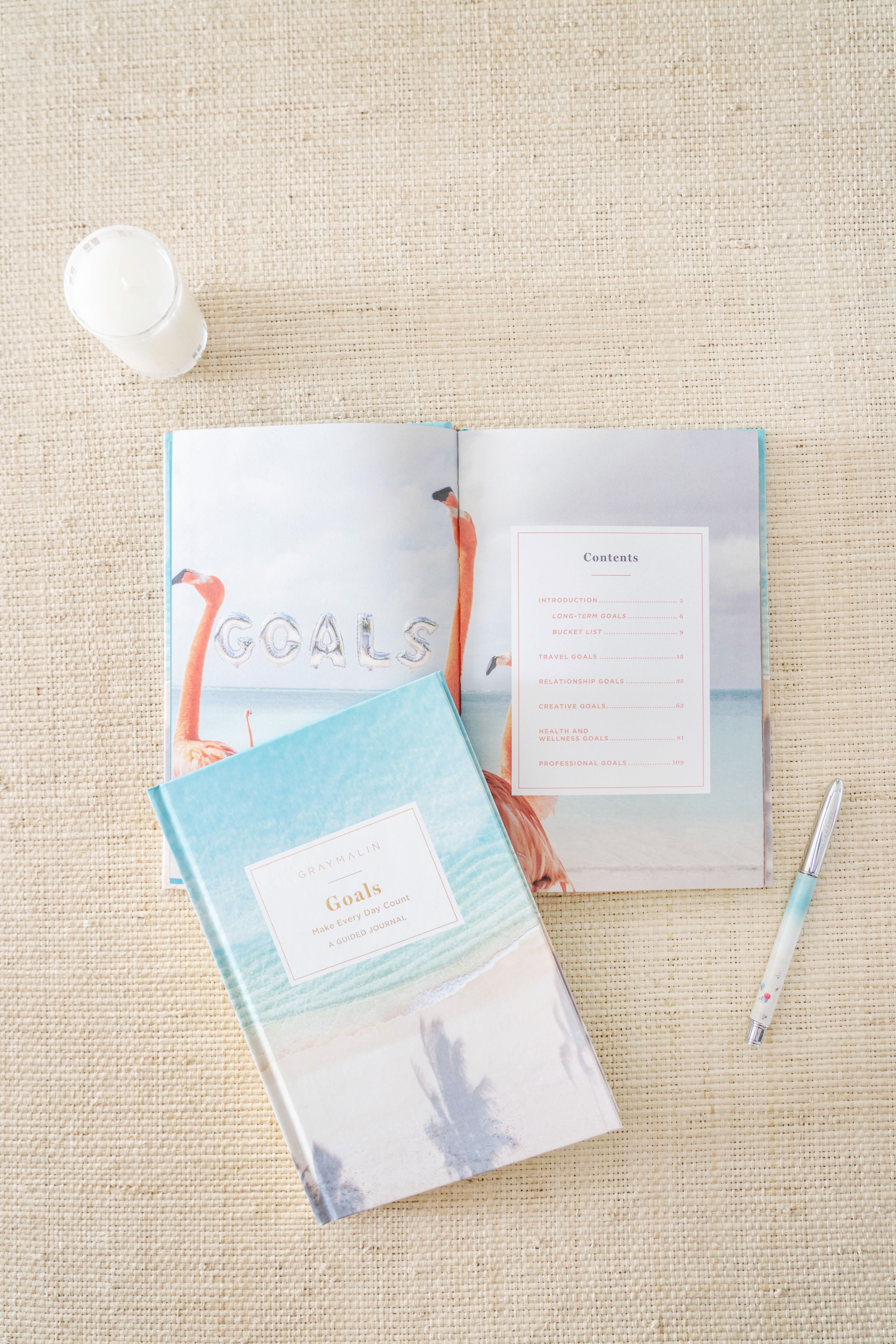 Filled with different activities, writing prompts, and checklists, this journal is bound to help you make 2021 your best year yet. The journal features Gray's photography from all around the world that will help inspire and transport you as you focus on the year ahead. It's a hardcover book with one of my favorite images from Hawaii wrapping all the way around and the pages are gold-gilded to make goal setting as glamorous as it should be.
So, are you ready to get working on achieving your goals? Lucky for you, The Goals Guided journal ships free on graymalin.com.
What are your goals for 2021?
Cheers!
Team GM
{"slides":[{"label":"Introducing Pillows","url":"/lifestyle/introducing-pillows","image":"https://res.cloudinary.com/gray-malin/image/upload/c_scale,w_1000,q_50,f_auto/gray-malin/blog_posts/hero_images/000/001/875/original/0-Pillow_round_two-47.jpg?updated=1614660728"},{"label":"Now Open - Gray's Faux Floral Shop","url":"/lifestyle/now-open-gray-s-faux-floral-shop","image":"https://res.cloudinary.com/gray-malin/image/upload/c_scale,w_1000,q_50,f_auto/gray-malin/blog_posts/hero_images/000/001/871/original/0-Diane_James-137.jpg?updated=1613607687"},{"label":"10 Prints to Put You in a Sunny State of Mind","url":"/lifestyle/10-prints-to-put-you-in-a-sunny-state-of-mind","image":"https://res.cloudinary.com/gray-malin/image/upload/c_scale,w_1000,q_50,f_auto/gray-malin/blog_posts/hero_images/000/001/870/original/0-Beach_Buggy__Mauna_Kea.jpg?updated=1613098929"},{"label":"Take a Peek Inside Gray Malin: The Essential Collection","url":"/lifestyle/take-a-peek-inside-gray-malin-the-essential-collection","image":"https://res.cloudinary.com/gray-malin/image/upload/c_scale,w_1000,q_50,f_auto/gray-malin/blog_posts/hero_images/000/001/837/original/0-GM_Monograph_Lifestyle-44.jpg?updated=1613018027"},{"label":"Introducing Gray Malin: The Essential Collection","url":"/lifestyle/introducing-gray-malin-the-essential-collection","image":"https://res.cloudinary.com/gray-malin/image/upload/c_scale,w_1000,q_50,f_auto/gray-malin/blog_posts/hero_images/000/001/836/original/GM_Plate_Selects-6.jpg?updated=1612832233"},{"label":"Minis Are Back For One Week!","url":"/lifestyle/minis-are-back-for-one-week","image":"https://res.cloudinary.com/gray-malin/image/upload/c_scale,w_1000,q_50,f_auto/gray-malin/blog_posts/hero_images/000/001/833/original/0-Mini_Lifestyle-20-spaced_out.jpg?updated=1611968392"},{"label":"The Making of Gray Malin at the Mauna Kea (+ a Giveaway!)","url":"/lifestyle/the-making-of-gray-malin-at-the-mauna-kea","image":"https://res.cloudinary.com/gray-malin/image/upload/c_scale,w_1000,q_50,f_auto/gray-malin/blog_posts/hero_images/000/001/830/original/0-Mauna_Kea_BTS-3.jpg?updated=1611793554"},{"label":"Introducing Gray Malin at the Mauna Kea","url":"/lifestyle/introducing-gray-malin-at-the-mauna-kea","image":"https://res.cloudinary.com/gray-malin/image/upload/c_scale,w_1000,q_50,f_auto/gray-malin/blog_posts/hero_images/000/001/827/original/0-Surf's_Up__Mauna_Kea.jpg?updated=1611620269"}],"label":"Have You Seen?"}
{"id":null,"number":null,"item_total":"0.0","total":"0.0","ship_total":"0.0","state":"cart","adjustment_total":"0.0","user_id":null,"created_at":null,"updated_at":null,"completed_at":null,"payment_total":"0.0","shipment_state":null,"payment_state":null,"email":null,"special_instructions":null,"channel":"spree","included_tax_total":"0.0","additional_tax_total":"0.0","display_included_tax_total":"$0.00","display_additional_tax_total":"$0.00","tax_total":"0.0","currency":"USD","considered_risky":false,"canceler_id":null,"display_item_total":"$0.00","total_quantity":0,"display_total":"$0.00","display_ship_total":"$0.00","display_tax_total":"$0.00","display_adjustment_total":"$0.00","token":null,"checkout_steps":["address","delivery","complete"],"bill_address":null,"ship_address":null,"line_items":[],"payments":[],"shipments":[],"adjustments":[],"credit_cards":[],"promotions":[],"total_shipment_cost":"$0.00","permissions":{"can_update":false},"use_shipping_for_billing":true,"use_new_ship_address":true,"use_new_bill_address":false,"selected_ship_address":null,"selected_bill_address":null,"display_completed_at":null,"item_count":0,"subtotal_minus_promos":"$0.00","coupon_codes":[],"includes_framed_items":false}
This site uses cookies to allow better navigation. By closing this banner, scrolling this page or clicking any of its elements, you are giving consent to all cookies. To learn more and to change your preferences please see our Cookies Policy.