Whether you have a cozy, wood-burning fireplace you use on the regular, or simply a faux one that's just for looks, it's no secret that a well-decorated mantel can be a true thing of envy. Not only does it create a great focal point in any space, but it's also prime real estate for displaying your favorite art piece. (Hint hint: beach aerial anyone?) That being said, today we're serving up all the inspo you need for a swoon-worthy mantel, three different ways. But before we get started, let's cover a few mantel decorating FAQ's…
What size print should I put over my mantel?
This, of course, depends on the size of your mantel itself, but our recommendation for most small to medium mantels would be a medium sized print. At 24" x 36" our medium size fits most mantels beautifully—unless you have an oversized or extra wide fireplace, then you may even be able to get away with a large. The bigger the better, right?
How many inches above my mantel should I hang my print?
As a general rule of thumb, hang your artwork four to six inches above your mantel. This will create enough visual space so your print doesn't look cramped, but still looks cohesive with the rest of your fireplace. If your print is extra large and you have plenty of wall space or high ceilings, you can even hang your print as much as 12 inches above your mantel.
What colors should I pair with my mantel?
If you're mantel is a clean white or another light neutral, then your job is easy! Pairing nearly anything and everything with your mantel is sure to make your fireplace look like a million bucks. However, if your mantel is painted a different color, create a cohesive look by selecting artwork with accents of your mantel color in the piece. Have a black or deep grey fireplace? Take a note from this home tour and opt for bold contrast with a snowy print like Top of Aspen Mountain framed in black.
Now that we got those out of the way, let's do some shopping, shall we? Here are a few of our favorite looks inspired by GM prints…
Inspired by… Palm Tree Pool, Palm Beach
1. Palm Tree Gold Taper Candle Holder, $49.95 | 2. Palm Tree Pool, Palm Beach Print, $249+ | 3. Celia White Vase, $14.95 | 4. Faux Monstera Leaf, $12.95 | 5. Malta Tall Brass Vase, $149 | 6. Malachite Oct Vase, $118 | 7. White Ceramic Chain, $22 | 8. Chinoiserie Books (Set of 5), $178 | 9. Corrugated Bamboo Box, $349 | 10. Mini Foo Dog Table Lamps (Set of 2), $599
Inspired by… Welcome Back to the Parker II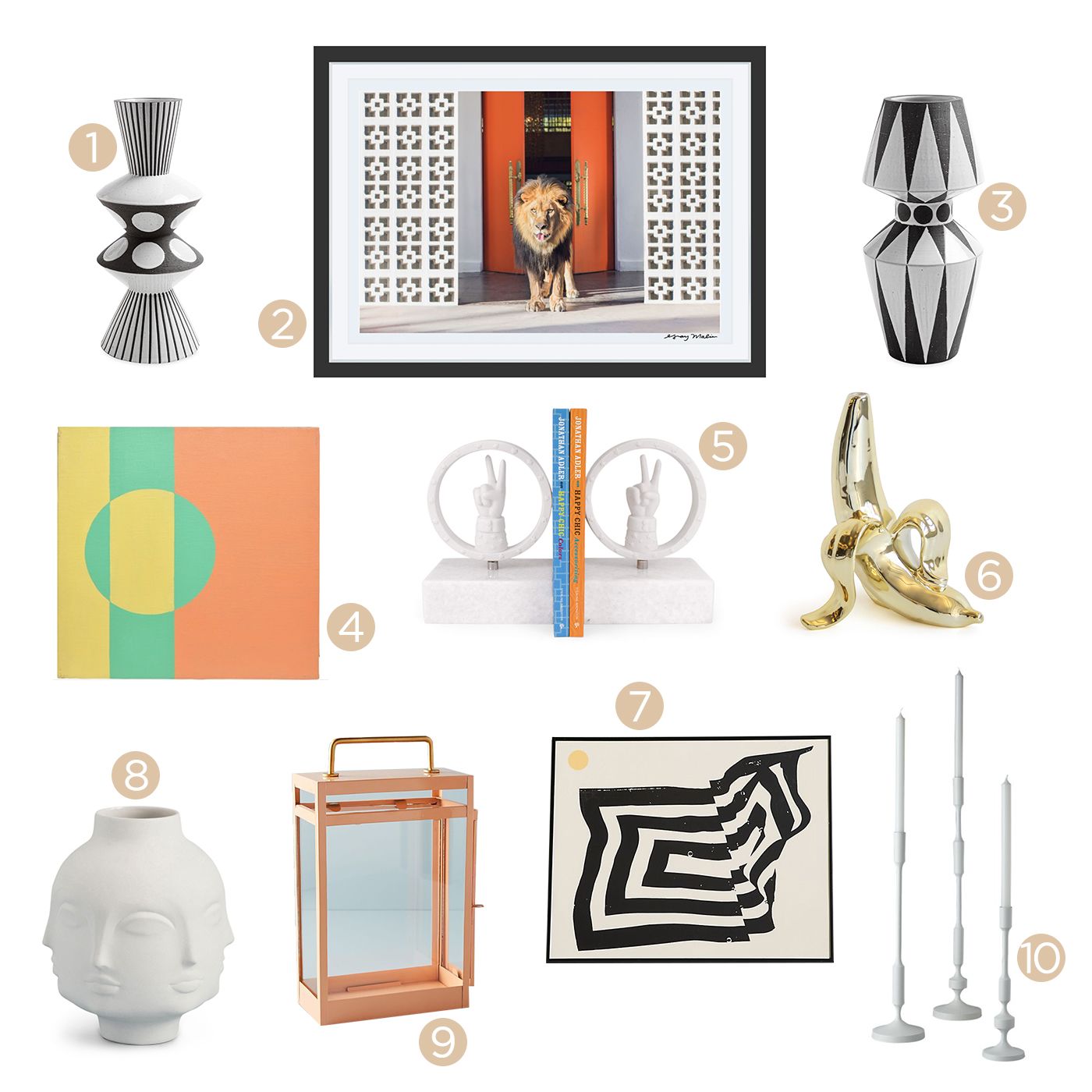 1. Palm Springs Bow Tie Vase, $525 | 2. Welcome Back to the Parker II Print, $299+ | 3. Palm Springs Diamonds Vase, $525 | 4. Vintage Hard Edge Abstraction Oil on Canvas, $295 | 5. Peace Bookend Set, $195 | 6. Banana Bud Vase, $68 | 7. Mountain Moon Wall Art, $248 | 8. Dora Maar Vase, $295 | 9. Chassis Lantern, $20 | 10. Wadsworth Taper Candle Holders, $19.95-$39.95
Inspired by… Mauna Kea Beach, Vertical
1. The Sea Candle, $49 | 2. The Sand Candle, $49 | 3. Mauna Kea Beach, Vertical Print, $249+ | 4. Zumthor Sea Glass Beads, $40 | 5. Demijohn Bottles, $58 | 6. Displayed Weaver Tools (Set of 3), $58 | 7. Found Frosted Glass Vases, $45 | 8. Malia Seagrass Baskets (Set of 2), $74 | 9. Jute Striped Wall Baskets, $8 | 10. Parchment Books (Set of 5), $175
Which of these looks do you love the most?
Let's be honest, you can't go wrong no matter which you choose… Shop more mantel-ready prints right HERE.
We can't wait to see what magic you create!
Xx Team GM
Photos: GrayMalin.com