Have you heard the news? Not only did we release new work from Italy, but we're also offering 25% off all Italy prints to celebrate! Plus, if you order during this promotion, you will receive a complimentary Collector's Edition copy of ITALY ($125 value) with your art purchase over $300. Pretty good deal, right? If you've been thinking about bringing home your dream Italy print, now is certainly the time. To help make the choices a little easier, today we're rounding up the 10 most popular Italy prints.
Take a trip along the coast of Capri by boat and enjoy the view of the sun sparkling on the water.
Bring home the vibrant colors of Positano with this print that offers a view of the city that one could only dream of.
Fly high above the exclusive La Fontelina Beach club on the isle of Capri.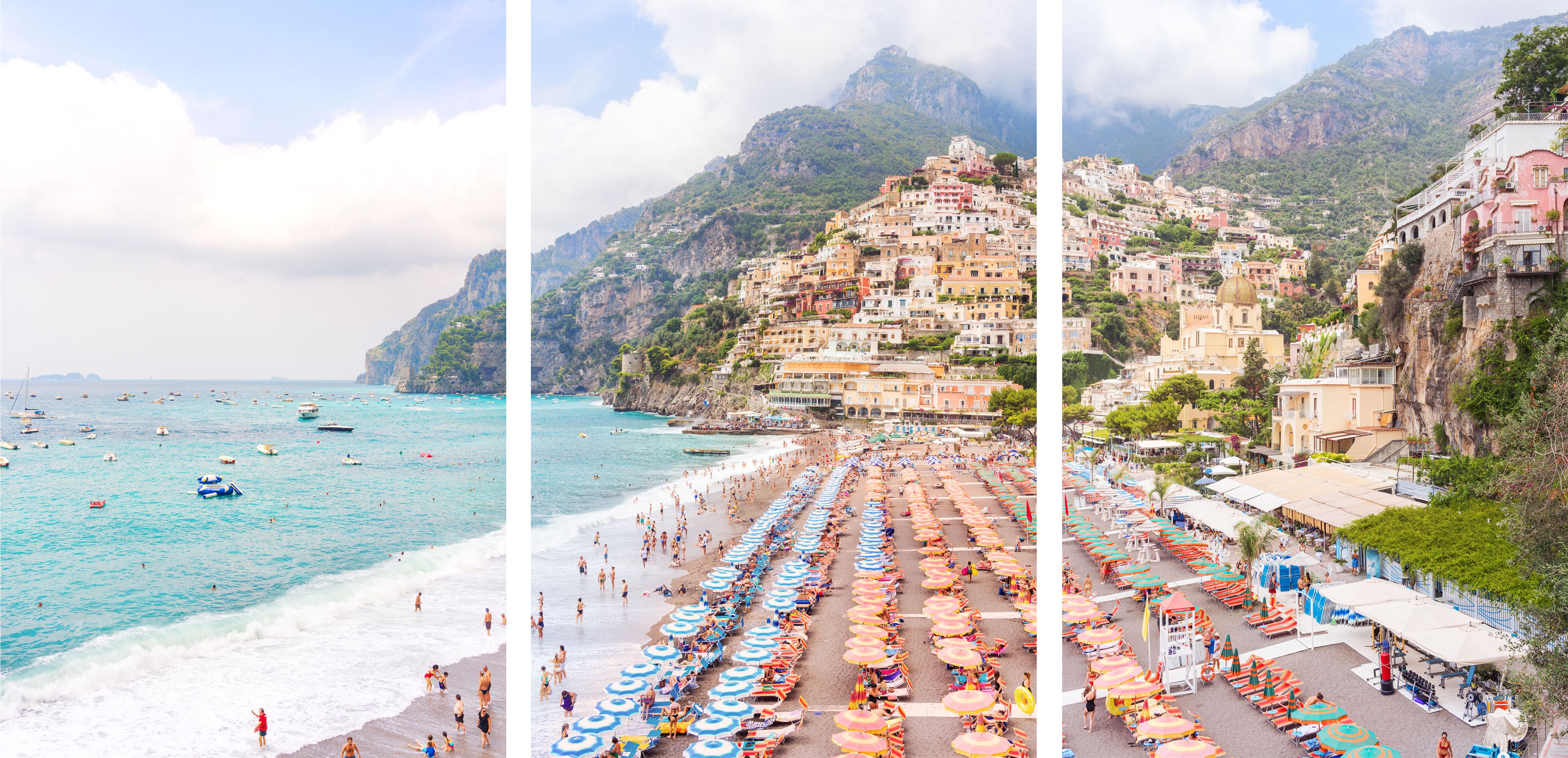 Open a window to Positano with this triptych that brings the city to life.
Stop and take in the gorgeous view of the Amalfi Coats and imagine yourself driving up the winding roads.
Enjoy a happy hour cruise on Lake Como with this dreamy print… chilled champagne not included.
Lounge in the iconic striped chairs of La Fontelina Beach Club and take in the gorgeous sunset from the comfort of your home.
Enjoy a beach day under the blue ad white striped umbrellas of La Fontelina.
Ride along the coast with the perfect sunset view over the iconic I Faraglioni rocks.
Wooden Boat, Lake Como Vertical
Cruise across Lake Como in a beautiful vintage wooden boat on a sunny day in Italy.
So, what Italian destination have you been dreaming of? Capri? Positano? Sicily? Whatever it is, don't miss out on your chance to bring home your dream Italy print for 25%. It'll only be available for a limited time.
Cheers!
Team GM
{"slides":[{"label":"10 Prints to Inspire Fun in the Sun","url":"/lifestyle/10-prints-to-inspire-fun-in-the-sun","image":"https://res.cloudinary.com/gray-malin/image/upload/c_scale,w_1000,q_50/gray-malin/blog_posts/hero_images/000/001/629/original/0-Poolside__The_Breakers_Palm_Beach.jpg?updated=1590623852"},{"label":"10 Most Popular Italy Prints of All Time","url":"/lifestyle/10-most-popular-italy-prints-of-all-time","image":"https://res.cloudinary.com/gray-malin/image/upload/c_scale,w_1000,q_50/gray-malin/blog_posts/hero_images/000/001/624/original/0-La_Fontelina_Loungers.jpg?updated=1590017641"},{"label":"The Making of Seaside Circus","url":"/lifestyle/the-making-of-seaside-circus","image":"https://res.cloudinary.com/gray-malin/image/upload/c_scale,w_1000,q_50/gray-malin/blog_posts/hero_images/000/001/620/original/0-Seaside_Circus_BTS-6.jpg?updated=1589407332"},{"label":"Brand New: Introducing Seaside Circus","url":"/lifestyle/brand-new-introducing-seaside-circus","image":"https://res.cloudinary.com/gray-malin/image/upload/c_scale,w_1000,q_50/gray-malin/blog_posts/hero_images/000/001/618/original/0-Seaside_Acrobats.jpg?updated=1589248025"},{"label":"Gray Malin at the Parker Free Kids Coloring Pages","url":"/lifestyle/gray-malin-at-the-parker-kids-coloring-pages","image":"https://res.cloudinary.com/gray-malin/image/upload/c_scale,w_1000,q_50/gray-malin/blog_posts/hero_images/000/001/615/original/0-Coloring_Mockup-monkey-4x5_copy.jpg?updated=1588899358"},{"label":"Travel From Home with New Zoom Conference Backgrounds","url":"/lifestyle/travel-from-home-with-new-zoom-conference-backgrounds","image":"https://res.cloudinary.com/gray-malin/image/upload/c_scale,w_1000,q_50/gray-malin/blog_posts/hero_images/000/001/611/original/0-.jpg?updated=1588639682"},{"label":"Bugaboo by Gray Malin Giveaway!","url":"/lifestyle/bugaboo-by-gray-malin-giveaway","image":"https://res.cloudinary.com/gray-malin/image/upload/c_scale,w_1000,q_50/gray-malin/blog_posts/hero_images/000/001/601/original/Bugaboo_Lifestyle-5.jpg?updated=1586997861"},{"label":"Bugaboo by Gray Malin","url":"/lifestyle/bugaboo-by-gray-malin","image":"https://res.cloudinary.com/gray-malin/image/upload/c_scale,w_1000,q_50/gray-malin/blog_posts/hero_images/000/001/600/original/2020-04-13.jpg?updated=1586820483"}],"label":"Have You Seen?"}
{"id":null,"number":null,"item_total":"0.0","total":"0.0","ship_total":"0.0","state":"cart","adjustment_total":"0.0","user_id":null,"created_at":null,"updated_at":null,"completed_at":null,"payment_total":"0.0","shipment_state":null,"payment_state":null,"email":null,"special_instructions":null,"channel":"spree","included_tax_total":"0.0","additional_tax_total":"0.0","display_included_tax_total":"$0.00","display_additional_tax_total":"$0.00","tax_total":"0.0","currency":"USD","considered_risky":false,"canceler_id":null,"display_item_total":"$0.00","total_quantity":0,"display_total":"$0.00","display_ship_total":"$0.00","display_tax_total":"$0.00","display_adjustment_total":"$0.00","token":null,"checkout_steps":["address","delivery","complete"],"bill_address":null,"ship_address":null,"line_items":[],"payments":[],"shipments":[],"adjustments":[],"credit_cards":[],"promotions":[],"total_shipment_cost":"$0.00","permissions":{"can_update":false},"use_shipping_for_billing":true,"use_new_ship_address":true,"use_new_bill_address":false,"selected_ship_address":null,"selected_bill_address":null,"display_completed_at":null,"item_count":0,"subtotal_minus_promos":"$0.00","coupon_codes":[],"includes_framed_items":false}
This site uses cookies to allow better navigation. By closing this banner, scrolling this page or clicking any of its elements, you are giving consent to all cookies. To learn more and to change your preferences please see our Cookies Policy.